Baseball Team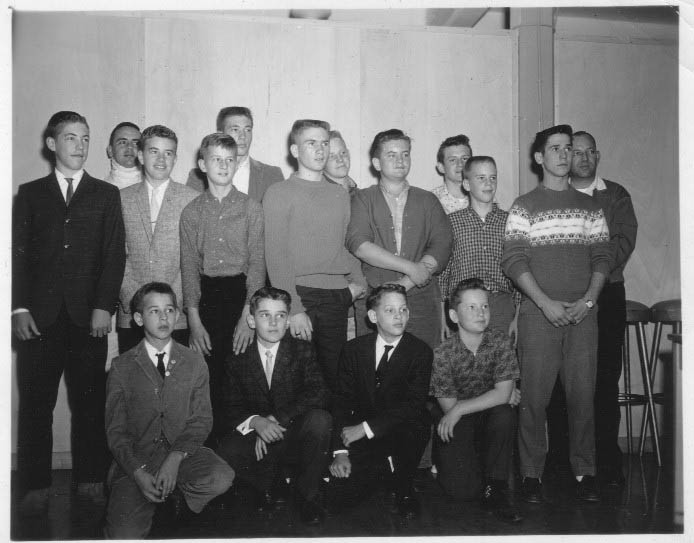 Back Row L-R: Jim Rowles (Sgt, USAF)-Manager; Bill Dicus-Pitcher; Wally Rotkis 3rd Base (Eye Dr in Seattle); Dave Pence-Catcher (Retired USAF); Dick Pence-Coach.
Middle Row L-R: Doug Bigelow-Pitcher/Outfielder; Floyd Green-Pitcher; Unknown; Jeff Routch (USAF Col (ret) in Macon, GA)-Pitcher/Outfielder; Dave Hofeditz-First Base/Pitcher; Tom Rotkis-2nd Base (Dr. in Arizona); Alan Helm-ShortStop (deceased).
Front Row L-R: Unknown; Unknown; ? Lachman; Jimmy Hofeditz-Centerfield.
---
Thanks to Dave Pence for this photo and the names.
If anyone can fill in any of the "unknowns", or if you have any old baseball photos or other TRAB memorabilia of any kind, please email Bob Holland.
---
If you have old photos or programs or ANY other memorabilia of ANY kind
about dependent or any other activities at Toul-Rosieres AB during the early 60's, please let us know know!
We will work with you to tell you how to get them scanned and will post them here!
PLEASE! DO NOT GET YOUR PHOTOS ETC COPIED UNTIL YOU CHECK WITH ELAINE FIRST!!
There are a number of FREE alternatives that are available in most communities,
and there are certain guidelines we prefer you to follow in the sizing, etc of the photos.