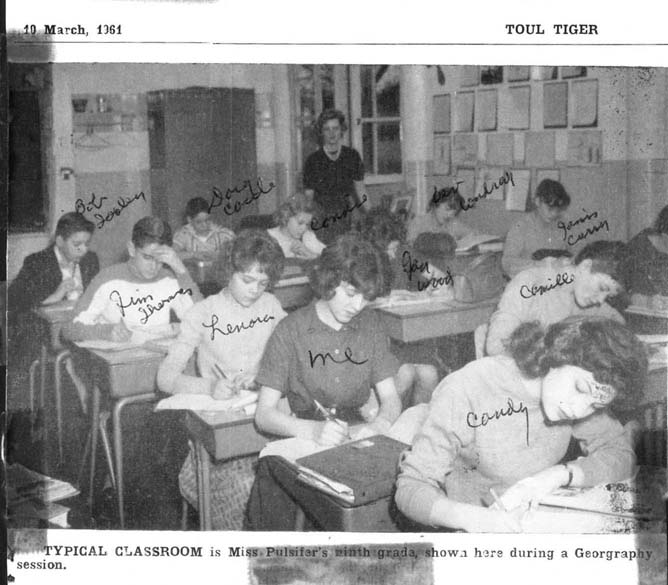 ---
Miss Patricia Pulsifer's 9th Grade Class Photo from local paper
If the names aren't legible, as best as I can make them out, here's what they are, by rows from the front:
Front row: Bob Tooley, Jim Thomas, Lenora Billdt, me [Elaine Harris (Pack)], Candace "Candy" Doddridge (Lightner)
Middle row: Doug Castle, Connie Kingsley, Jan Wood, Camille Adcock
Back row: Miss (Patricia) Pulsifer, Bev Condray, Janis Curry
---
Return to The Way We Were (Ah! If only we could!)
---
If you have old photos or programs or ANY other memorabilia of ANY kind
about dependent or any other activities at Toul-Rosieres AB during the early 60's, please let us know know!
We will work with you to tell you how to get them scanned and will post them here!
PLEASE! DO NOT GET YOUR PHOTOS ETC COPIED UNTIL YOU CHECK WITH ELAINE FIRST!!
There are a number of FREE alternatives that are available in most communities,
and there are certain guidelines we prefer you to follow in the sizing, etc of the photos.