---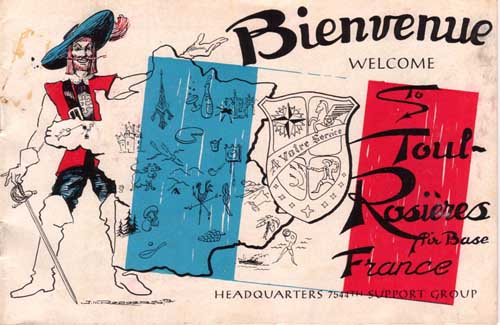 ---

Please note that while we warmly welcome visitors from former Toul American High School
students stationed at bases and Army posts other than Toul-Rosieres Air Base,
these pages are focused on former students at the base school at Toul-Rosieres Air Base
and Verdun American High School before there even WAS a Toul AHS!
We also welcome airmen who were stationed here during this time period and any other interested folks.
---
MESSAGE FROM JOHN EVERLEY Class of 60/61

If anyone has any information about reunions for Verdun AHS or any other relevant school, please let me know and I will post the information. The last such reunion I am aware of was in 2019, and partnered with Overseas Brats. There are also Regional Get-Togethers--check them out! Remember our Verdun web site is www.VAHS.org. We also have a group page on Facebook that is very popular. If you know of anyone that is not on the Verdun AHS web page, please forward this page to them and copy John as well as Elaine. Hope to see you this year! Spread the word!!!
---
A SPECIAL PLEA!
If you have kept in touch with female classmates, please let them know about our site and ask them to contact us!
It's been especially difficult to locate many of our friends due to name changes over the years.

And if you have moved or otherwise if any of your contact information has changed, please let Elaine know.
---
Who have we found lately?
Charlie Schaffer, '64
Ann Richardson Davis, aka Miss Richardson, 2nd grade teacher '60-'62
John Banbury '65
Cheryl Sugrue '65
Carolyn Hamor '65
Mary Ellen Nelson '64
Libby Nelson '66
(Mary Ellen's sister)
Floyd Green '64
Don Story '65
Pat Yingling aka Miss Pulsifer, 9th grade teacher
Wayne Spangler, 9th grade teacher
---
Apologies. The free guestbook site we have been using has folded, and I am searching for a replacement as time permits. I do have the old signatures available, and may be able to search for anyone who might have an interest in the names, etc.